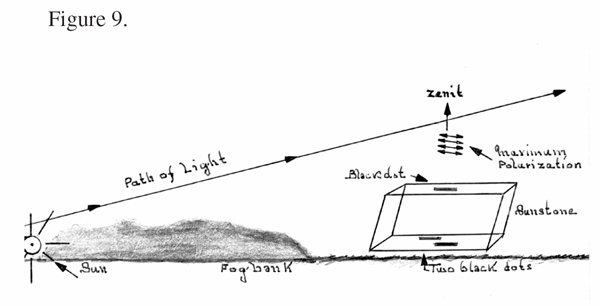 Image courtesy One Earth Press .

Leif K. Karlsen drawing of the Viking Sunstone in use to find the hidden sun.


Karlsen writes: "The sunstone is pointing toward the relative brightness of the evening sky. At sunrise and sunset, the sun's rays are are horizontal and the light from the zenith should be completely polarized." (other sources indicate that it would be partially polarized, but that this direction would be that of the maximum possible).

According to Karlsen (after Bowditch 1962), "unpolarized sunlight, upon entering the earth's atmosphere, is scattered and becomes plane polarized, its vibrations being in a plane perpendicular to the line from the sun to the observer. When the sun is on the horizon, this plane is vertical." By the earth's atmosphere acting as the polarizer, the stone becomes the analyzer (as in a polariscope) which is turned until the darkest or stongest reaction is determined. This is also the principle of the Kollsman Sky Compass or Twilight Compass which was used on trans-arctic flights.

For an overview of Karlsen's method see his article on Viking Navigation (pdf file, 1.76 MB). For much more detail, read more in Leif K. Karlsen's book "Secrets of the Viking Navigators."