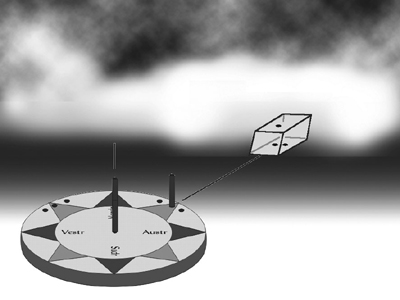 Image courtesy One Earth Press .

Taking a bearing on the hidden sun using the sunstone.



Karlsen writes, "The Vikings did not have a magnetic compass, but they had other ways to get their bearings and to guide the ships across the ocean. They divided the visible horizon into eight Old Norse sections, which they called 'attir,' meaning 'main directions.'" These were specific for different latitudes and also were used to reckon time. In order to do this, they needed to make sightings at specific times whether or not they could see the sun. In a the sea mist, a sunstone could be used to find the sun and thus take an accurate bearing.

As a preview, check-out this little YouTube movie on Viking Navigation by NASASciFiles; about 3 minutes into the video there is a demonstration of the Viking Sunstone (in this case, calcite rhomb) just as Karlsen describes it: Viking Sunstone.

"Many people also noticed that the calcite crystal works at other times than sunrise or sunset, why not use it for navigation during those times? The answer is that it works very well at other times and will certainly point out the sun. The problem with the navigation during that time is that unless a person knows precisely the time of day and the exact location of the sun at any time of the day, that bearing is useless to the navigator. Since the Vikings had no time keeping devices, and longitude was unknown to them, they could not use the information except at sunrise or sunset. Those two bearings were known to them." (June Karlsen, personal communication).

(see section on calcite optics)

For an overview of Karlsen's method see his article on Viking Navigation (pdf file, 1.76 MB). For much more detail, read more in Leif K. Karlsen's book "Secrets of the Viking Navigators."