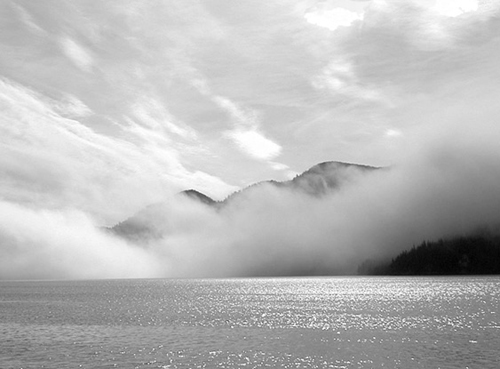 Image courtesy of One Earth Press.


Karlsen writes: "When very cold air moves over warmer water, wisps of visible water vapor may rise from the surface as the water "steams." In extreme cases this frost smoke, or Arctic sea smoke, may rise from a few feet to a height of several hundred feet. The portion near the surface forms a dense fog which obscures the horizon and surface objects, but usually leaves the sky relatively clear."

I myself have travelled by sea in the end and beginning of Winter in the waters around Iceland, the Faeroes and North Norway and can say that this description is very accurate. The effect is surreal - rocky islands rise up suddenly out of the mist and clamorous birds fly around nearby out of sight. The mist swirls in phantasmagoric shadows and all the while the sky above is blue.

This is the condition where a device such as the sunstone would have enabled the navigator to determine the sun's position.
Read more in Leif K. Karlsen's book "Secrets of the Viking Navigators."